Delightful | di-ˈlīt-fəl | adj. highly pleasing.
Sunday, September 05, 2010
hello! This is going to be the post about my life back in July. Actually, June 28 to August 3 to be exact. You might be wondering, "Why in the world is Stephanie blogging about stuff from July when it was, like, 2 months ago?" Well, I had a laptop with me and such, but there was about 10 days total when I didn't have access to the internet. Plus I was lazy and I didn't feel like having to upload all the pics I wanted to put in this post onto Photobucket first.

so why was July one of the highlights of my summer? Well, I finally got to go back to Taiwan after 5 years of not being able to visit there.

About Taiwan (from my point of view) --
The Good
- Everything there is soooo much cheaper than stuff in the US, except for name brand items. And they're good quality too! For example, only a few drinks cost over $1. most are only about $.50.
- delicious food and fresh seafood everyday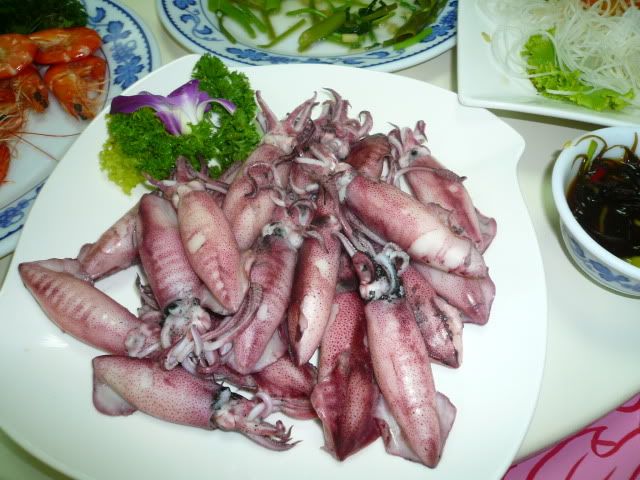 I love squid!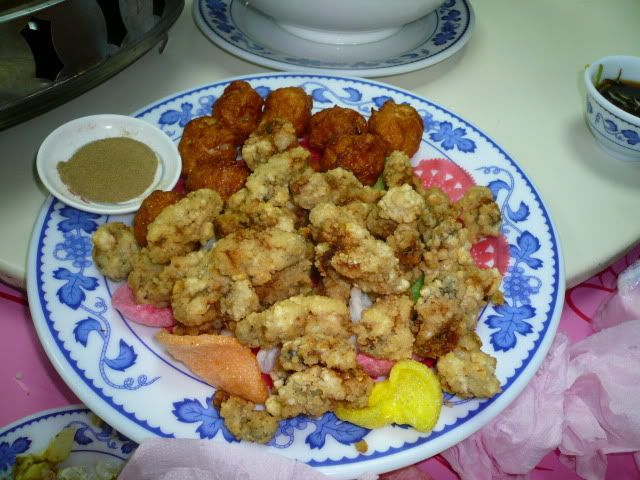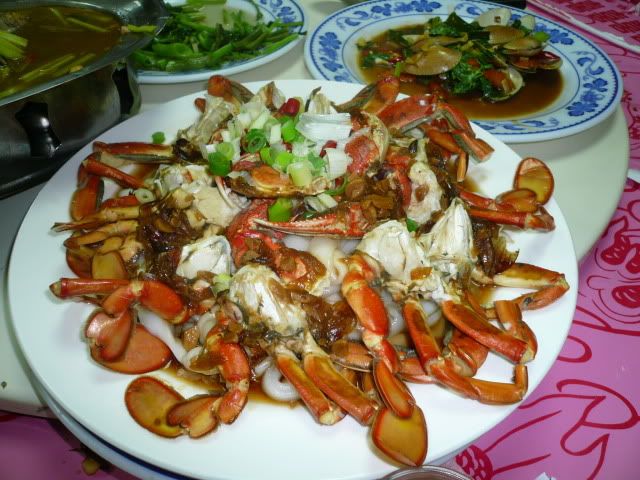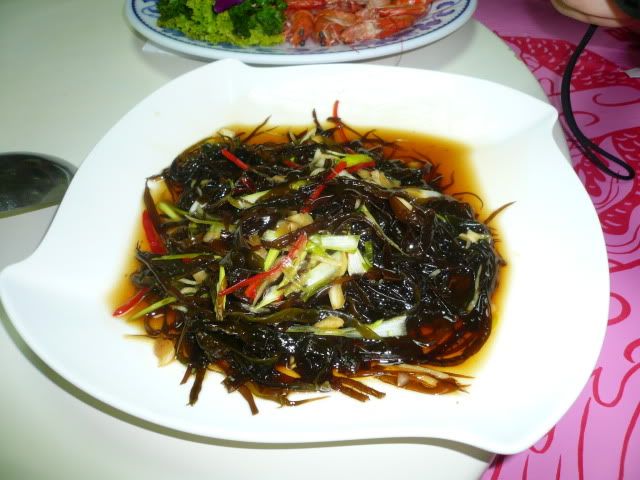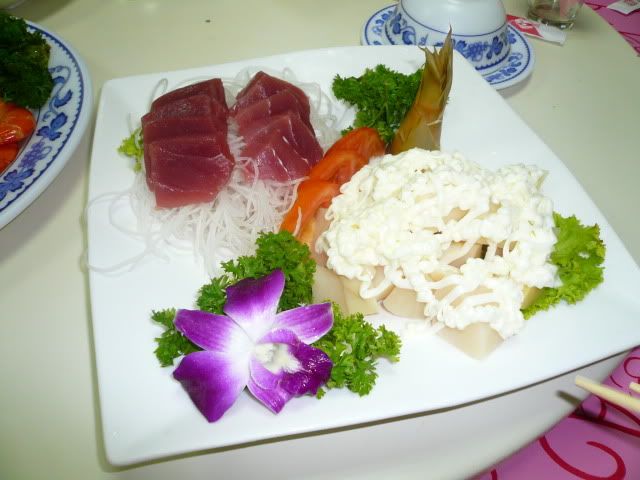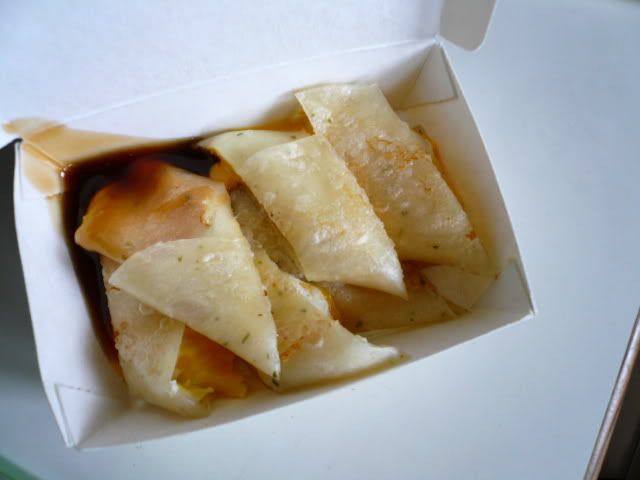 one of the breakfasts that we had
- cute clothes that I like because I like the azn fobby style (haha)
- high quality thin 0.38mm pens in beautiful colors, including black!!!!
- road trips are only about 2 hours long because of the tininess of the island :D Unless, of course, you decide to drive from Taipei to Kaoshung (aka from the far north to the far south), then it takes 4 hours. haha, 4 hours is how long it takes me to get from my house to the beach.
- shopkeepers, waiters, and employees are always nice and respectful, unlike those in the US (especially up north).
- night markets and the Taipei New World Mall aka The Underground Mall (because it's like the night market, but with air conditioning and it's underground)
- I can quickly understand what people are telling me in Chinese because they don't have a mainland chinese accent :P
- many many convenience stores, such as Seven Eleven, Ok!, and Family Mart
- I
loved
watching the tv commercials! unlike American commercials, asian commercials are funny and creative.
The Bad
- not enough air conditioning. either all azn people don't believe in a/c or it's too expensive for them/us. I'm not saying that people should turn the air conditioner on to 75 degrees, but if a room is hotter than 86 degrees, then I really think that the a/c should be on...
- the use of oil seems to be a must in Taiwanese dishes. Even simple, plain veggies are cooked with oil when oil isn't needed. I'm very used to not eating oily foods, so every time I saw the ridiculous amount of oil used in food there, I'd feel sick about having to eat it.
The Ugly
- mosquitoes and tiny black flies!!! gah!! I got used to the mosquitoes. Plus Taiwan's mosquitoes are big and slow and they fly pretty low so it's easy to kill them (muahahahahaha). but I got severely bit on my legs by these tiny black flies. and out of my volunteer tour group of 150+, I was only one of two people who got bitten by those little guys >.>
- THE HEAT AND HUMIDITY KILLLLSSS ME!!! I eventually got used to it, but I had to wash my hair every single day because I'd always get very sweaty and nasty by 10am. The humidity is ridiculous. It's actually kinda like the humidity in the US like around where I live and in NYC, where the sweat just sticks to your skin and barely evaporates off. so nasty. idk how anyone wears makeup there without it melting off within 3 hours.
----------
My youngest cousin, who's going into 6th grade, loves SNSD. Sometime when he bored and he doesn't think anyone's within earshot, he starts singing "
Gee
". haha!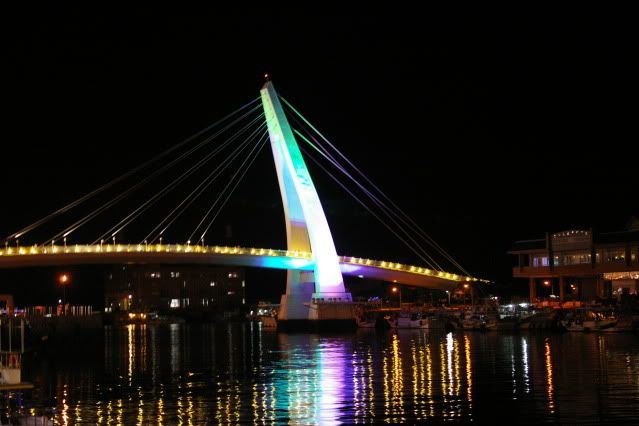 The Lover Bridge of Tamsui at the
Tamshui Fisherman Wharf
. There's good food around along with street musicians. and yes, there were numerous couples there...
I really do have bad luck with mp3's. The day before leaving the Chien Tan Youth Activity Center where all of us 370 volunteers stayed at, my mp3 froze T_____T I couldn't restart it because I didn't have anything as thin as a needle to fit into the Restart hole. and I couldn't figure out how to play music off the laptop I borrowed from my cousin. Therefore, I was basically music-less for the next 3.5 weeks. Although sometimes I went on YouTube to listen to stuff and other people would play music off their laptops anyway. So in other words, this is my 5th mp3 that has malfunctioned. ugh.
I'd like to have a nice mp3 like the ones below --
Samsung P3
Samsung S5
but of course, I can't exactly
afford
one of those, so I'll just stick with my no-mp3 for the next couple of months.
I bought a pair of nerdy glasses that were only about $3 and I got this watch for about $7. I love the design. plus it's all white :)
I bought the new Jay Chou album!! yes, I already have his whole album on my computer, but I loved his new songs so much that I wanted the album too. I didn't buy one until I was wandering around in the Taipei airport the day I was leaving Taiwan. It was only about $15, which is cheaper than all other places. :)
I did a good amount of shopping during my stay :) There's an epic, 4 story bookstore in Taipei called Eslite by Taipei 101 that sells an incredible amount of books, plus stationary, Diana vintage cameras, electronics, food, etc. I bought 2 books from there - one related to pen doodling and the other on photography. :D
----------
Now for what I did in the volunteer program...
As most of you probably know, I taught 4th and 5th graders. I think that they were the best group of students to teach. They learned pretty fast, never caused fights, and liked to play games. I loved the 2nd graders, especially the twins Becky and Linda who are very sweet. I'm just glad that I didn't have to teach them bc from what I heard, they don't remember words that are taught to them and they didn't follow most of the rules, like rising your hand before you speak.
The kids hard at work
What I love the most about little kids is how they're so straight up honest! It's so funny! but sometimes it can also be cruel.
On one of the days, a news crew with some college student interns came to our school to interview us and to talk about the teaching program. The lady who was in charge of it was pretty annoying because she was picky about what she wanted us to say and do. and we had to pretend that we knew how to surf just because the school is right beside the beach. bullshit! False advertising!!!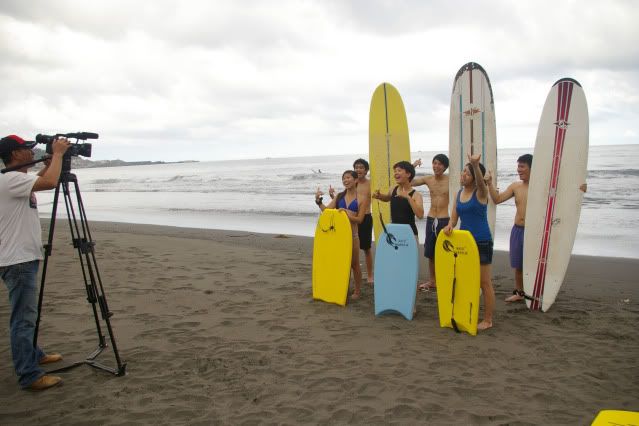 At the harbor --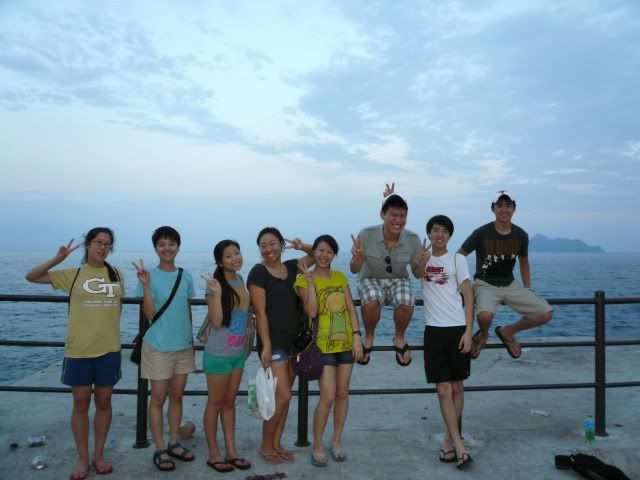 yea, happy time!
Check out my cool drawing skillz
I took a permanent marker and drew this bc I was bored. Then a drew a hat for the smiley face. It turned out to be two faces in one! Mario and strange-man-with-ugly-unibrow. haha
On one of the days, these two students I became friends told me that I should watch the sunrise. So I woke up at 4:30am and they took me to see it.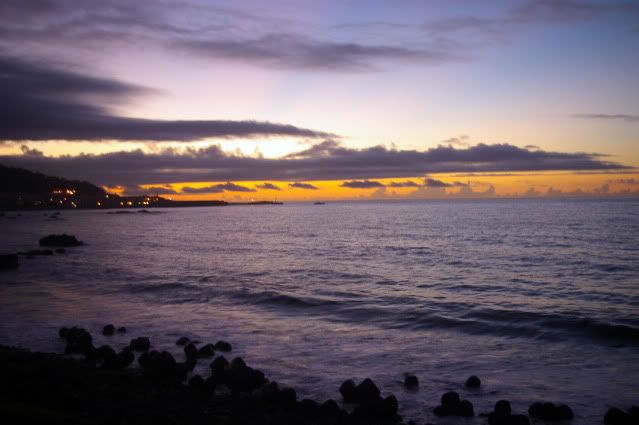 Turtle Island off in the distance
At one point, you could see two distinct pink spots in the sky, so that it looked like the sky was blushing. pretty cool, huh?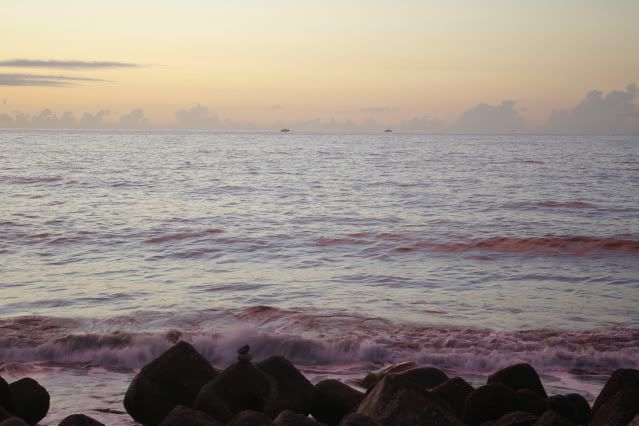 and with all the pinkness in the sky, the ocean looked surreal with the pink reflection and all.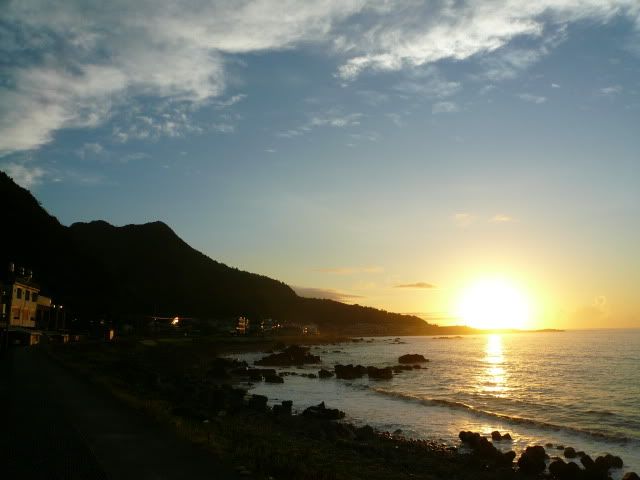 And finally the sun actually breaks across the horizon at 5:30am
On a weekend, we took a boat to Turtle Island where we climbed all
1706 steps
up to the highest point of the Island, and back down. I had never sweated so much in my life. I was so tired and delirious that my legs were shaking while I was walking down the steps.
Little model of Turtle Island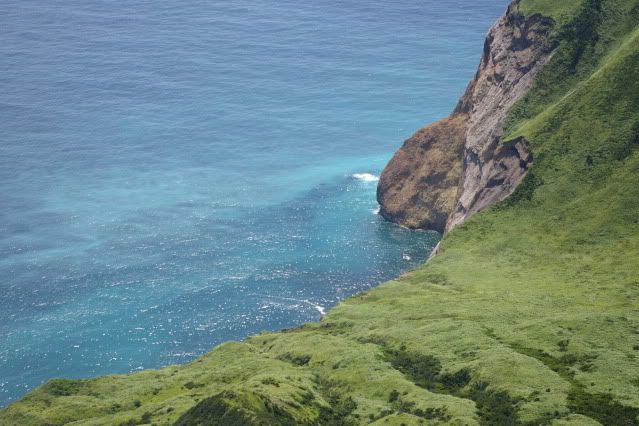 The view of a part of the island from above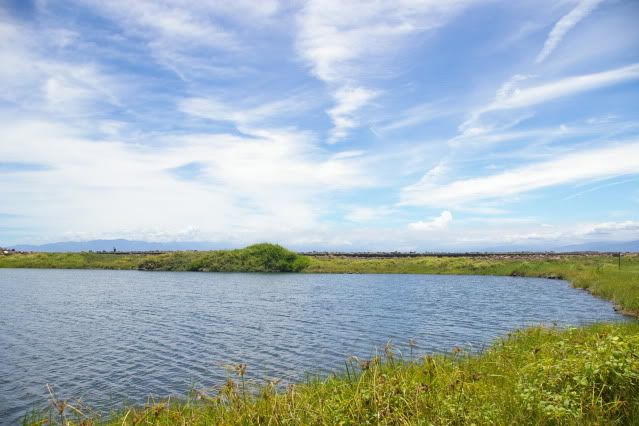 The next day we did another hike, but on Taiping Mountain >.<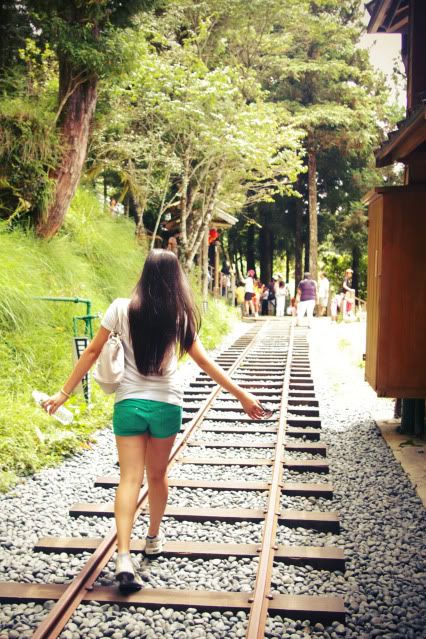 Right before we left the school :'( I had such a fabulous time with these people with all of our crazy conversations, hilarious moments, and our war against the ants who liked to crawl around. Our problem with ants was far worse than our problems with mosquitoes and cockroaches. In fact, we even had "ant highways" where there would be a long trail of ants crawling from one of the side doors to the trash can in the middle of the room. ugh.
----------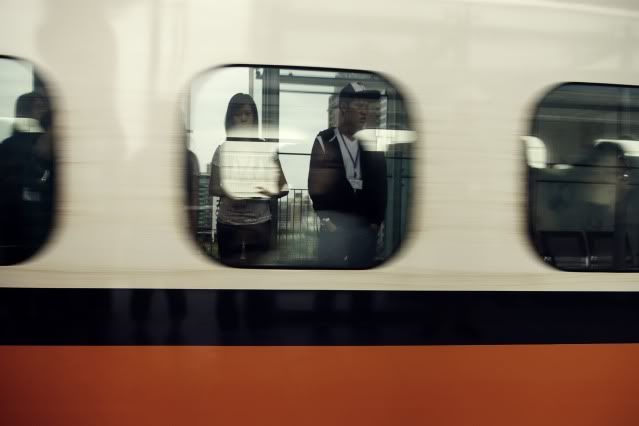 One day Ruthie saw this picture on facebook of a beautiful photo that she loved and because she liked my photog skills, she wanted me to take similar pics like that photo for her facebook profile pic.
I only took 3 shots for her, and each were different. This was my favorite one -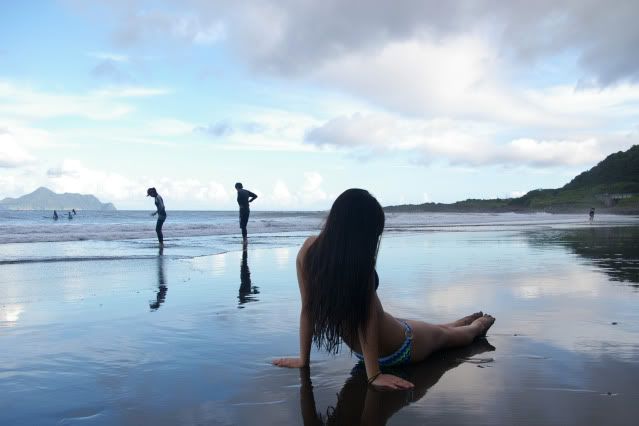 but she loved this one the most -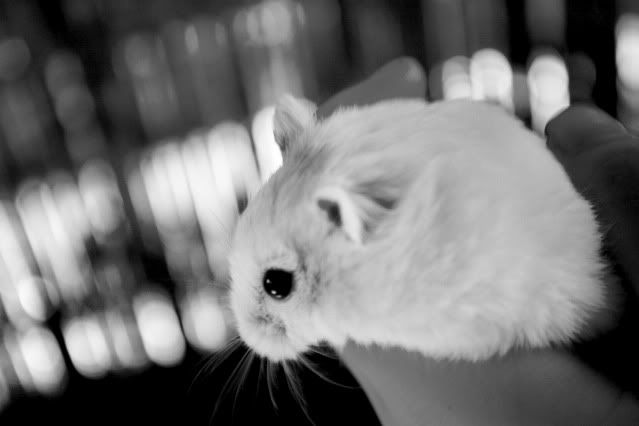 alrighty, time to go study some more because I get to watch a movie later tonight! peace out